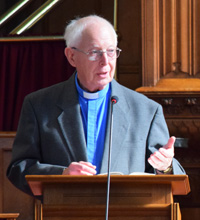 On Sunday 24th September we celebrated The Reverend John Slow's 60 Years of Ministry with a special service at High St, followed by lunch in Salem Hall.
Family and friends from across all of the Churches John has ministered joined us to celebrate the ministry and friendship that John has given over the years.
Over lunch many had the opportunity to share their memories of John, some in poem, some funny and some very moving, but all had the same theme – how thankful they were that John had in someway been part of their life.